As experienced Rockdoor composite door installers, we are highly skilled at fitting one of the most energy-efficient and secure doors across Greater Manchester. Rockdoor is an industry-leading manufacturer who is renowned for fabricating doors that are designed to last and boast an average lifespan of at least 30 years. This premium composite door has an A++ energy rating and is known for there superior performance, they can even save you money on your energy bills as they are remarkable at retaining optimum amounts of warmth within the home! But what exactly is a composite door and how are they so energy efficient?…
What is a composite door?
Made up of several materials, a composite door is designed to overcome problems that are often found in front doors that use a single material. Each material used to manufacture a composite door is selected for a particular benefit, which not only makes composite doors extremely secure and energy-efficient but they're also exceptionally low maintenance too, looking great for years to come!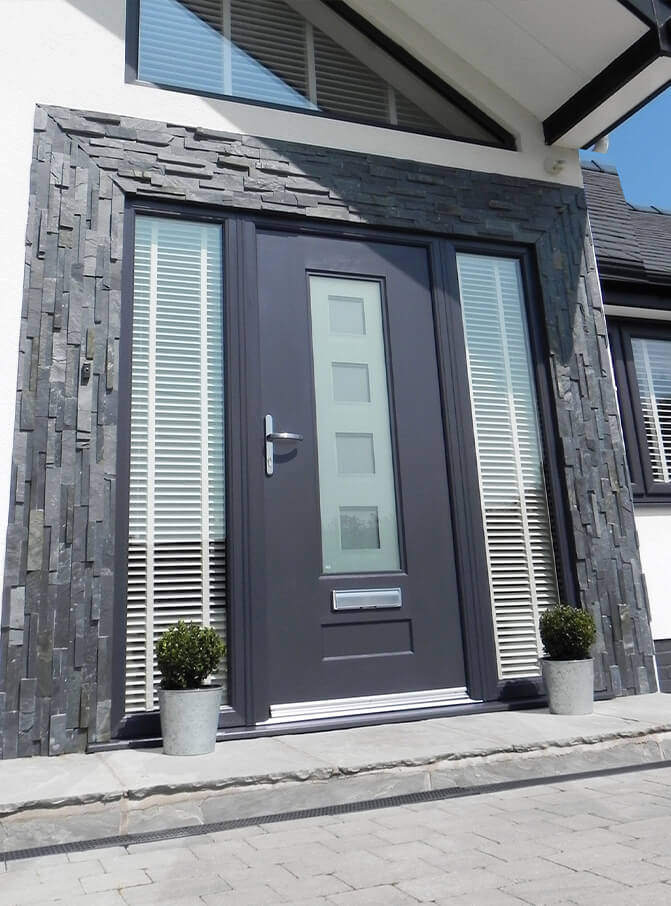 What makes our composite doors so energy efficient?
Rockdoor uses innovative technologies which makes our composite doors superior to other alternatives. The thermally efficient glass, reinforced frames, polyurethane foam core, and aluminium internal structure all work together to achieve the best energy ratings. Let's look at their ultra-efficient features in more depth:
1. Thermally efficient glass
As the glazing is locked into the door frame, this results in any draughts being blocked from entering your home. As there is nowhere for the air to go, heat cannot escape – resulting in a warmer, more economic home! You lose about 25% of heat through your windows and doors, so ensuring your glazing is efficient at maintaining the warmth in your home, will keep your energy bills and carbon footprint lower.
2. Durable reinforced frames
The PVC-U multi-chambered frame adds a layer of essential insulation, which supports the comfortable temperature regulation of your home, again stopping heat from escaping and blocking the cold British air from entering through the joints of your door.
3. High-density polyurethane foam core
60% stronger than standard composite doors, the high-density foam core plays a huge part in contributing to the door's thermal performance, as foam is a great insulator and reduces air movement.
4. Strong internal aluminium structure
The inner frame of a Rockdoor composite door is reinforced with an aluminium box section that makes it incredibly strong. Not only does it guarantee that the door is secure but protects your home from temperature fluctuations, as aluminium is another great insulator.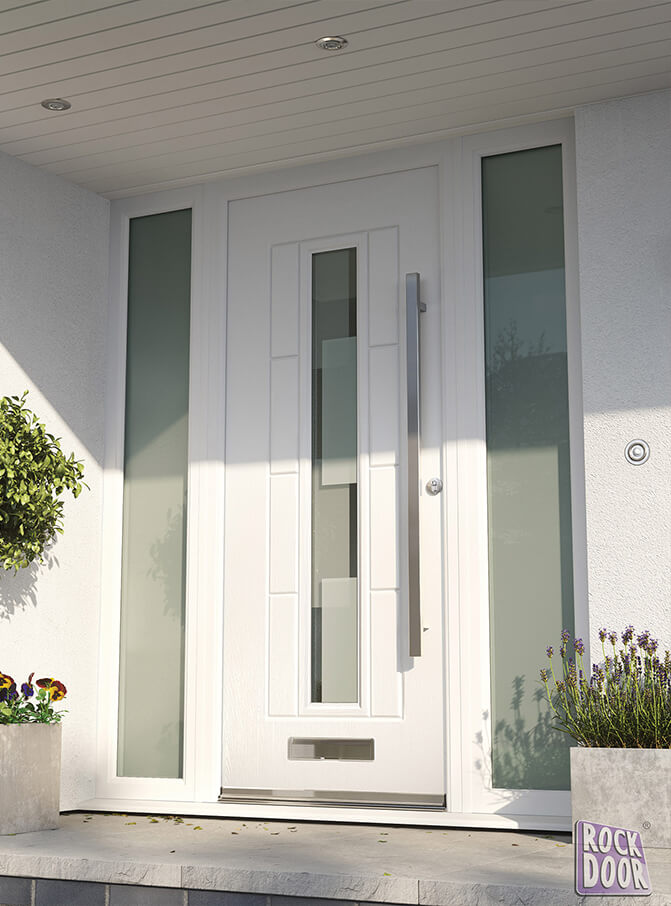 Premium energy-efficient composite doors for homes in Greater Manchester
It's no wonder that composite doors are the most popular type of entrance door in the UK. Though, if you are looking for the best option, premium doors excel over standard ones in several ways, particularly in terms of security and energy efficiency. The door is extremely versatile in terms of appearance too, as you have 13 different colours to choose from, including classical Chartwell green and the modern and contemporary shade, Anthracite Grey. You also have the choice of various woodgrain effects if you wanted a more traditional timber door aesthetic! Design your new composite door today and get a quote or call us on 0161 292 1122.