As a trusted partner to various commercial projects, working on schools is something we do often here at Droylsden Glass. For a recent job of ours, we travelled to Alderley Edge School for Girls in Cheshire.
Long-term work partners looking to create a safe and sheltered outdoor learning space
Armitage Construction were the contractors in charge of this project, and they've used our high-quality services many times over the years. They also knew of our specialist expertise within school environments. So, when they were tasked with creating a safe and sheltered outdoor learning space and cloakroom area for the nursery school children at Alderley Edge School for Girls, they knew just who to turn to get the job done to the highest possible standard – us!
Sun and snow protection thanks to a curved glazed external canopy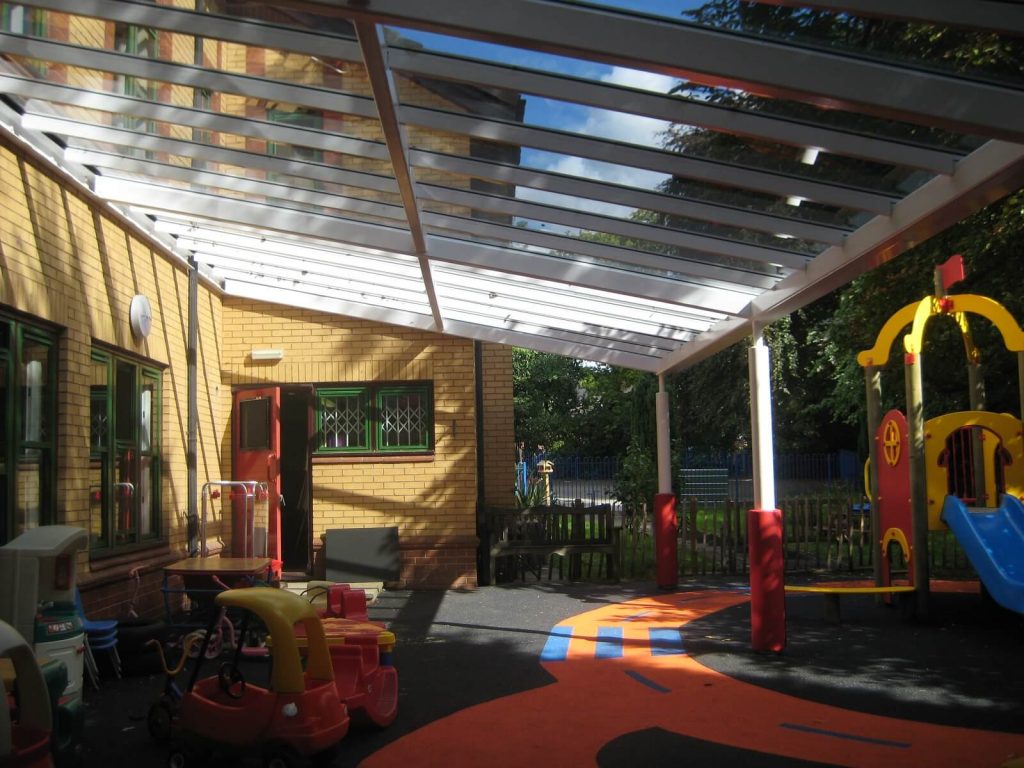 To create their sheltered outdoor space, we created a curved glazed external canopy using the Lonsdale Thermguard curtain walling system. With glazing bars and cappings built from sturdy aluminium, we created the outdoor shelter that they were looking for and ensured it was built to last. We also equipped it with an aluminium guttering system, so any rainfall will be safely diverted into the drains nearby.
Plus, we equipped it with anti-sun laminated glazing, which blocks out harmful UV rays. So, on those sunny days where the nursery school children are learning outside, they will not have to worry about getting sunburnt anytime soon!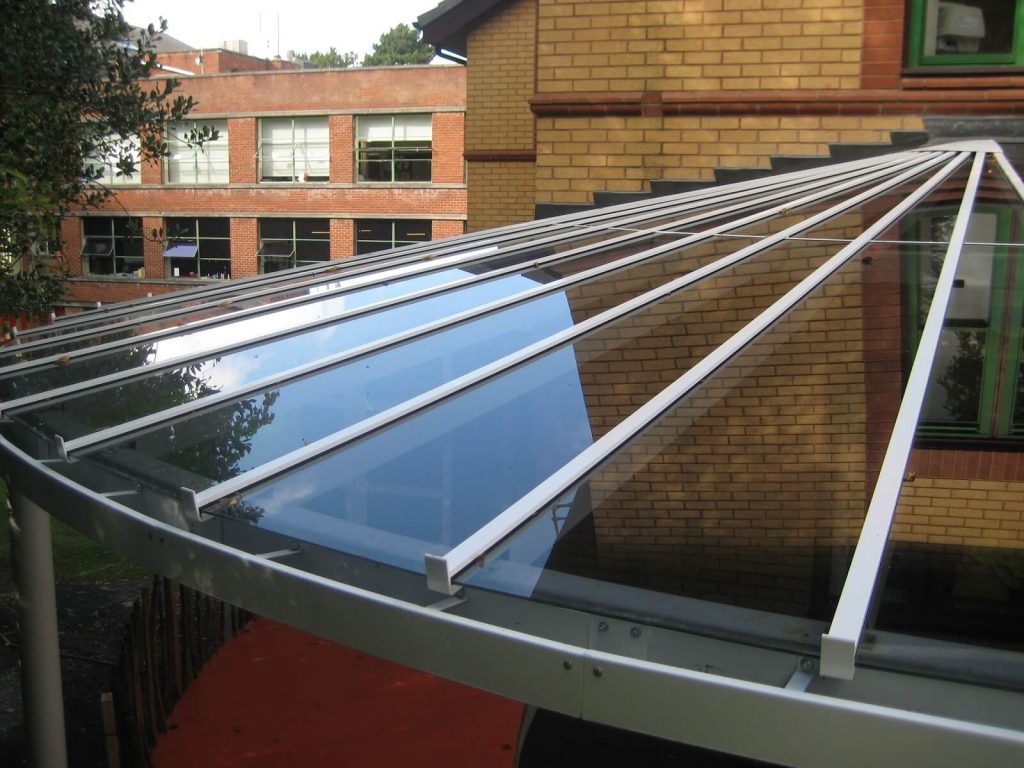 Creating a cloakroom space with white aluminium double doors & windows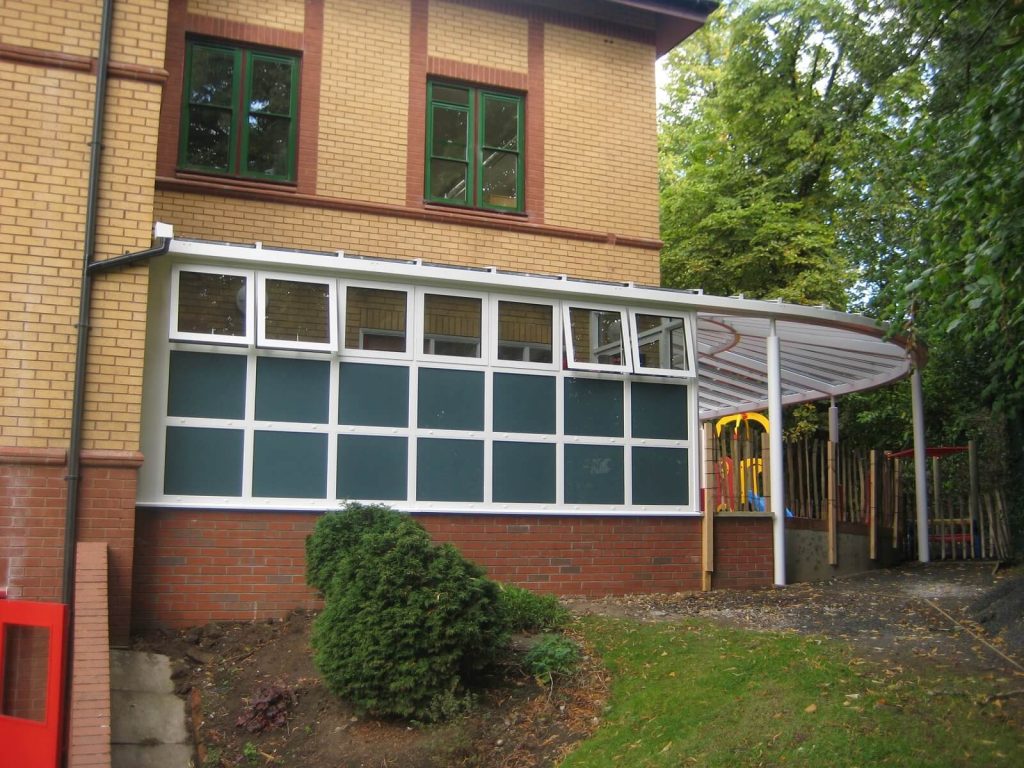 Using high-quality aluminium double doors and windows, we sealed off a section of the curved canopy to create the cloakroom area. They came in a white finish to ensure a seamless blend with the canopy along with A-rated double glazing. The use of A-rated double glazing ensured the cloakroom space would stay warm when its cold outside and cool when it is hot. So, whenever the students use it, they will always feel comfortable.
Anti-finger traps and safety glazing to keep students safe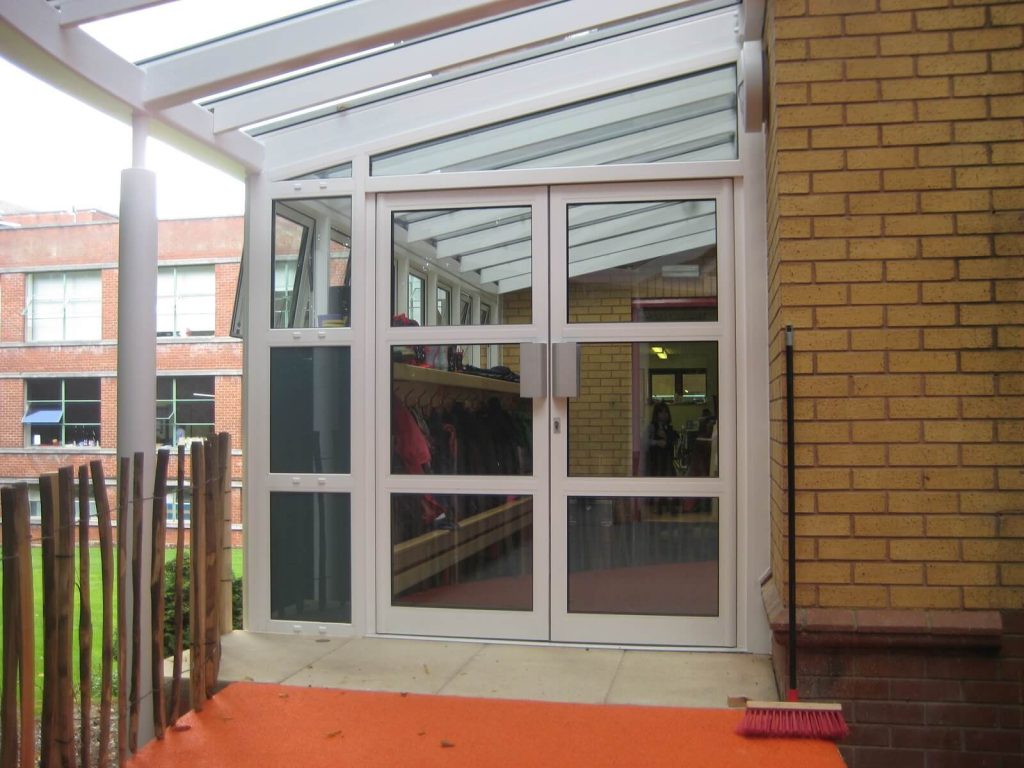 The double doors also came with anti-finger trap stiles, which should stop any of the nursery school children from getting their fingers stuck in the doors. Thanks to the use of laminated safety glazing on the aluminium windows and doors, students can go about playing and learning without fear of encountering any broken glass too!
A "first-class job" once again
Mrs Andrea Armitage, from Armitage Construction, said:
"We've worked with Droylsden Glass on many occasions, and once again they delivered a first-class job".
It is always nice to know our clients are happy with our work, and we are absolutely delighted to have delivered for our longtime work partners – and the school – once again.
Are you responsible for a commercial property and were you impressed by our work here? Get in touch with Droylsden Glass today. We are available to call on 0161 292 1122 or you can contact us online.