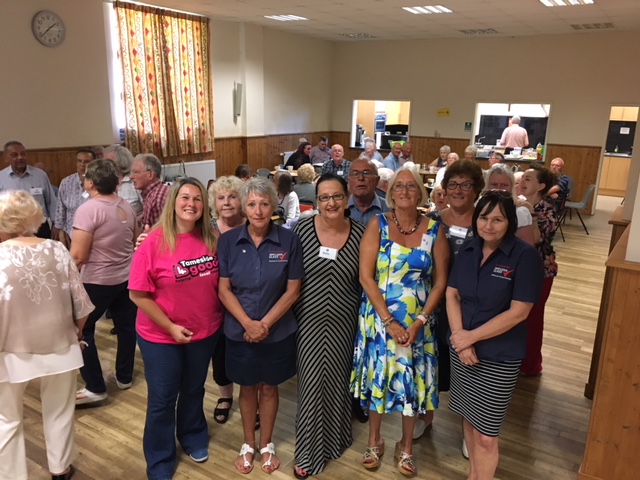 Here at Droylsden Glass, we take an active role in our local community and look to take part in worthwhile causes where we can. Our staff have even gone as far as skydiving to raise money for local charity, Tameside 4 Good. In addition to money-raising events, we provide ongoing support to the Charity by donating £1 to it for every project we undertake. Tameside 4 Good provides grants to various good causes in the area. A recent beneficiary of one of their grants were the Forget Me Not Buddies. Our Tameside 4 Good Ambassador, Ann, and Siobhan went to visit the Forget Me Not Buddies to see how they benefitted from our support.
Forget Me Not Buddies
Forget Me Not Buddies is an organisation that provides support to people living with Dementia as well as their families and carers. They received a grant of £3000 from Tameside 4 Good in the hope of growing their weekly meeting, which is located in Denton.
During the meetings, up to 50 people gather in a fun, social atmosphere. Attendees are provided with refreshments and take part in a variety of activities, which includes a quiz, dancing, and a game of bingo.
Doreen, an attendee of the meetings, felt all alone in the struggle to care for her partner before coming to the group. Whilst here, however, she has received support from the volunteers at all parts of the journey, receiving empathy and advice from others who have experiences with Dementia. Doreen is only one example of the many attendees who benefit from the support provided by the Forget Me Not Buddies.
How grants and donations have helped
Clare Taylor, the Funds Co-ordinator for Tameside 4 Good, was also in attendance with Ann and Siobhan and summarised how grants and donations have helped the Forget Me Not Buddies to continue performing their excellent work. She said:
"Initially they started off with 14 people, but with the help of the grant and the hard work, passion and commitment of volunteers, there are now around 50 people attending each week. Visiting today we could see how important the group is to those attending, and the importance of donations from businesses like Droylsden Glass".
We hope that, with ongoing support from ourselves and Tameside 4 Good, the Forget Me Not Buddies can continue to host events and continue providing support to those who attend them. We're also hopeful that other good local causes can benefit from our support in the same ways that the Forget Me Not Buddies have.
Droylsden Glass is an award-winning double glazing installer based in Audenshaw. For more information on our products & services, please call us on 0161 292 1122 or contact us online.