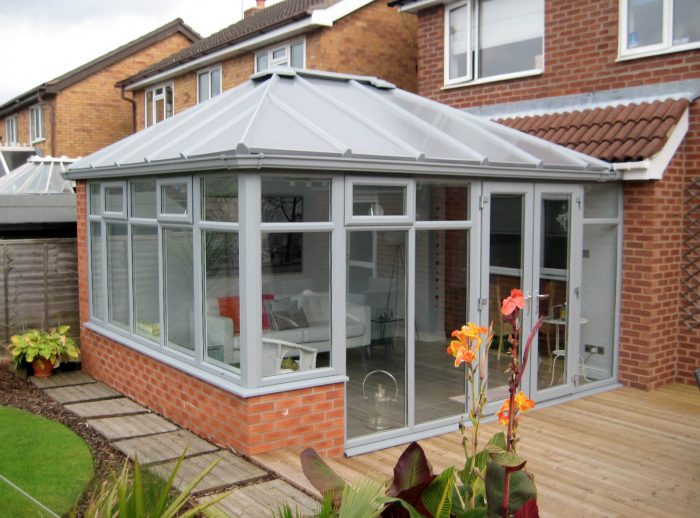 There's nothing better than conservatories for adding extra living space for you and any guests to enjoy. These versatile structures can be used for a variety of purposes and come in a variety of designs to suit the homeowner. In most cases, they also do not require planning permission. However, this is subject to restrictions, which we've covered in this post.
What is the maximum size for a conservatory without planning permission?
The current conditions that conservatories must meet in order to be exempt from planning permission are as follows:
A conservatory must not extend beyond the rear wall of the original property by more than 3 metres for an attached property and 4 metres for a detached one.
It should not cover more than half the area of your garden.
If building a conservatory on the side of your property, it should take up no more than half the width of the property.
Conservatories that are built forward of the principal elevation or at the side of the property must not be facing a road.
The height of the conservatory cannot exceed 4 metres. However, if it is located within 2 metres of the property boundary, the height cannot exceed 3 metres. The height can also not be higher than the highest part of the property's roof.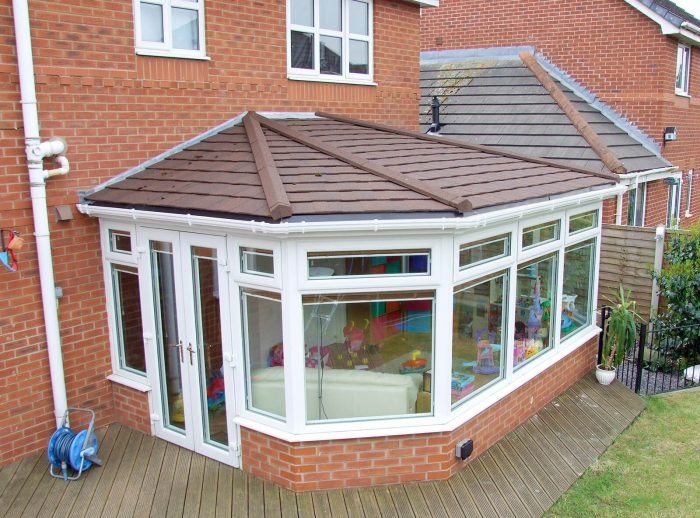 It is possible to exceed some of these limitations without acquiring planning permission, however, you will need approval from the Neighbour Consultation Scheme instead. The guidelines for conservatories that require approval through this scheme are below:
For detached properties, any conservatories that extend between 4 and 8 metres beyond the rear wall of the property.
For other properties, any conservatories that extend between 3 and 6 metres.
The guidelines for conservatories that require approval through the Neighbour Consultation Scheme were due to expire on the 30th May 2019, but they've now been made permanent. So, bear these in mind if you're looking to add a larger extension to your home.
It's also important to point out that all of the criteria outlined above does not apply to flats or maisonettes. Guidance for flats and maisonettes is available via the link here.
Areas where you might require planning permission
In certain parts of the UK, your permitted development rights might be and often are restricted. So, even if your proposed conservatory meets all the aforementioned criteria, you might still need to acquire planning permission. The areas where permitted development rights are often restricted are:
Areas of Outstanding Natural Beauty (AONBs)
Conservation areas. There are 9 conservation areas in Tameside alone, including Ashton Town Centre and Millbrook.
National Parks
World Heritage Sites
the Norfolk and Suffolk Broads
If you live in any of these areas, make sure you check with your local planning authority before attempting to build a conservatory. The link to the Tameside planning portal is available here, and the link for the Oldham planning portal here.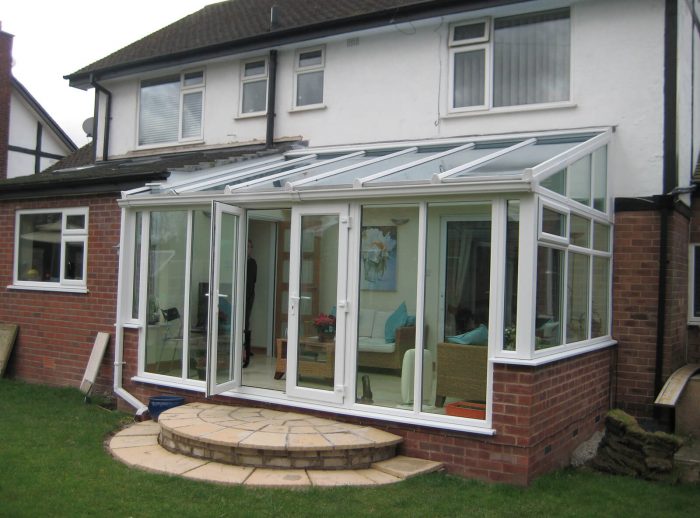 Restrictive covenants
Restrictive covenants are contractual obligations that are written into the property deed. Their purpose is to limit what changes can be made to the property. Therefore, there is a possibility that a clause preventing you from building a conservatory has been written into your property's deed. It is possible to remove them, however, and you can do so by following the guidance here.
If you are unsure about whether or not planning permission is required, Droylsden Glass recommends that you contact your local planning authority. This can be done via the Planning Portal website.
Building Regulations for conservatories
When adding an extension to your home, Building Regulations usually apply. Conservatories, however, are usually exempt from them, provided they are:
Less than 30m² in floor area
Built at ground level
Seperated from the main property by external quality windows, doors or walls
Fitted with an independent heating system that has separate temperature and on/off controls
The glazing and any electrical components they're fitted with comply with the relevant Building Regulations
Many homeowners will not have to worry about complying with Building Regulations. However, we can take care of all the necessary Building Control approval for those who do.
Do you need planning permission for a radiator in conservatory?
Installing a radiator in your conservatory does not require planning permission, however,  if the radiator is to be connected to the central heating then it will be subject to building regulations.
How to heat a conservatory
There are a plethora of ways to heat your conservatory. Here are a few options to consider;
Electric radiators
Gas central heating
Portable heaters
Log burner
Underfloor heating
SAP Calculations for conservatories & extensions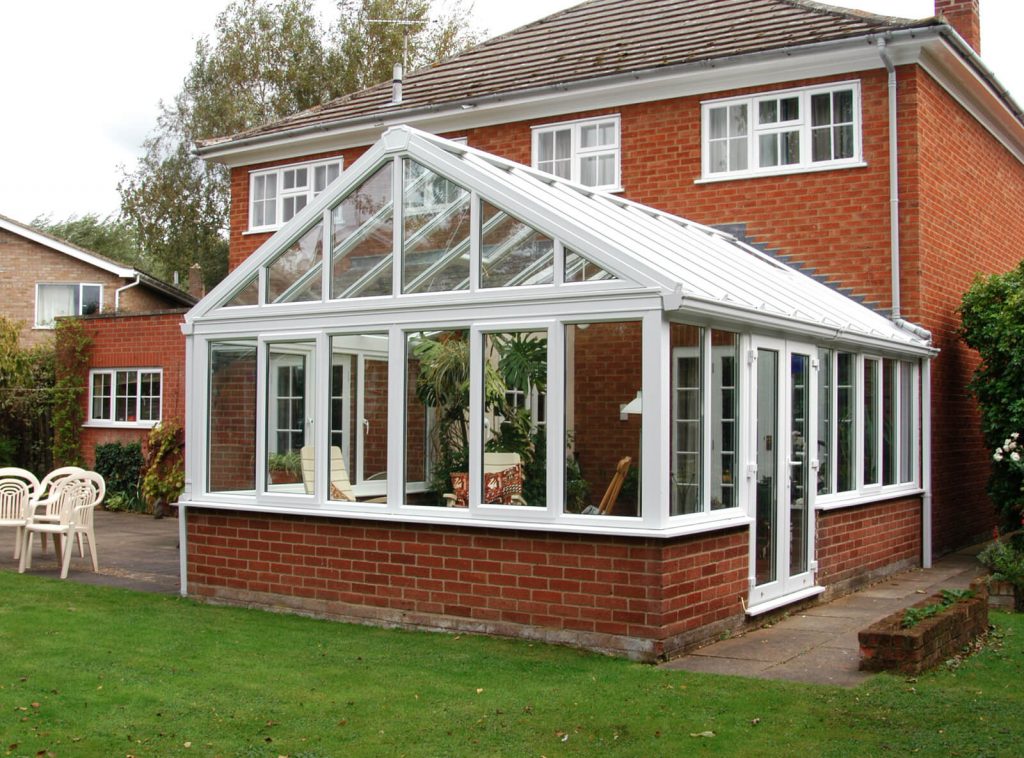 A Standard Assessment Procedure (SAP) Calculation is the rating that is used to produce a Predicted Energy Assessment and an On Construction Energy Performance Certificate. As Building Regulations require that a SAP calculation and Predicted Energy Performance Certificate (EPC) is required for any new or existing dwellings that are extended before any work is carried out, it's essential that a SAP calculation is made when building a conservatory or extension.
If replacing the roof on an existing conservatory, a SAP Calculation will also be required. However, we will take care of any SAP Calculations for you.
Structural calculations for conservatories
When building conservatories, we carry out accurate structural calculations. This is essential for ensuring the full weight of the structure is properly supported and will stay standing for years to come.
When replacing a polycarbonate conservatory roof with a glass or tiled roof, we also calculate whether the existing structure will be able to support the additional weight of the new roof. If it's not suitable, we then reinforce the existing structure. In cases where the existing conservatory is particularly old, we often replace the whole structure as this maximises the performance benefits provided by the new roof.
If you require additional information on extending your home or for any home-improvement advice, contact Droylsden Glass on 0161 292 1122 or contact us online.