Warm roof conservatories are conservatories that are fitted with an insulated tiled roof. Tiled warm roofs offer a range of excellent features such as:
Multiple layers of high-quality insulation, so they do an excellent job of keeping conservatories warm, hence the name 'warm roof'.
Low heating costs because of the excellent insulation, which also prevents overheating during the warmer months.
Stylish external tiles that come in a range of finishes and can last for 50 years without any maintenance.
Keeps out most external noise, leading to quiet, peaceful interiors.
Plastered interior ceiling, giving the appearance of another room in the house.
Thanks to the unique combination of factors outlined above, they offer the look and feel of a traditional extension.
Here at Droylsden Glass, we have 2 tiled warm roofs available: Guardian and Supalite. To give you a better idea of their features, we've created this informative blog.
How much does a conservatory warm roof cost?
The cost warm roof depends on a variety of factors including:
The size of the conservatory
Whether just a replacement roof is needed or a whole new conservatory
What style the conservatory is
Therefore, it is a bespoke job, so there is no set cost for them.
Does putting a roof on a conservatory make it warmer?
It certainly does. Swapping out an old polycarbonate or glass roof for a tiled warm roof will trap considerably more warmth in the conservatory, making it much warmer when it's cold outside.
Is it worth putting a proper roof on a conservatory?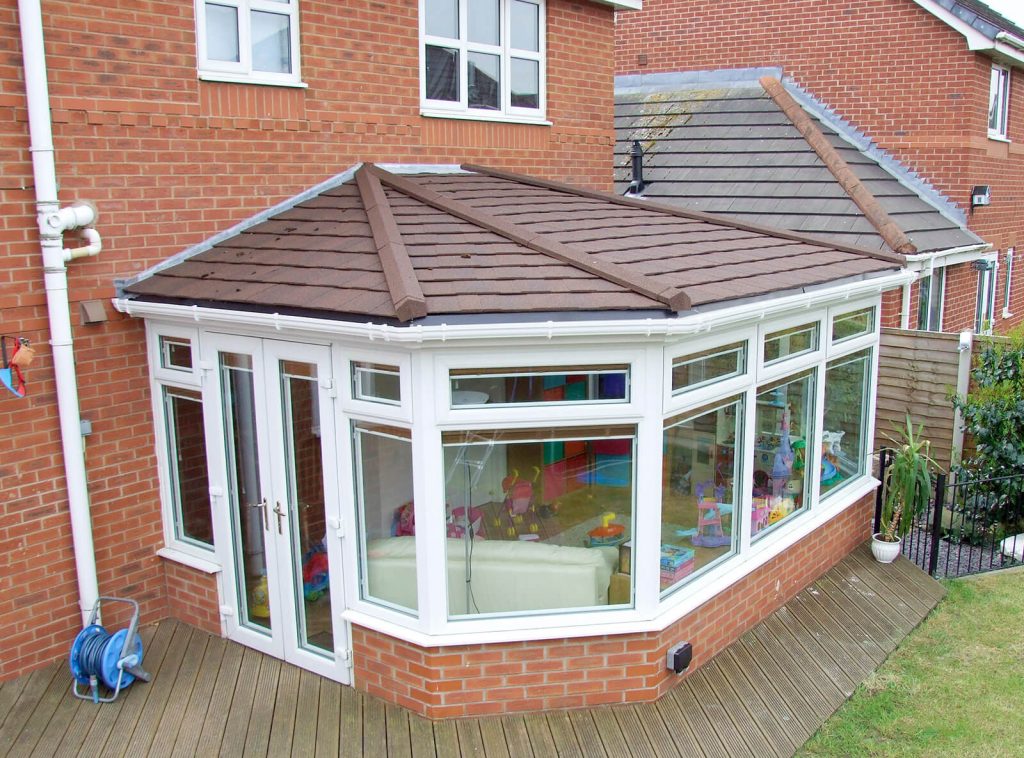 Yes, it is, especially if replacing an old polycarbonate or glass roof. These roof types are major culprits for heat loss, which contributes to higher energy bills. However, tiled warm roofs will dramatically improve heat retention and lower energy costs.
Do tiled warm roof conservatories need planning permission?
Planning permission is not usually required for conservatories, provided they do not exceed a certain size and are not built on designated land.
When replacing old conservatory roofs with tiled warm roofs, planning permission is not usually required either. However, building regulation approval could be required.
Can my current conservatory support a tiled warm roof?
Tiled warm roofs are renowned for their lightweight construction, ensuring they can be fitted to most existing conservatory structures.
Do warm roof conservatories come with a guarantee?
Here at Droylsden Glass, we offer a 10-year guarantee with our warm roof conservatory installations. However, you can expect them to last much longer than this.
Do tiled warm roofs take long to install?
If you only wish to have an existing conservatory roof replaced with a tiled warm roof, the new roof should take between 3-5 days to install, depending on the size and design of the roof. However, this will take longer if one is fitted as part of a new conservatory installation.
Are you interested in either a Guardian or Supalite tiled warm roof conservatory? Get a free, no-obligation quote for either option today. Call Droylsden Glass on 0161 292 1122 or contact us online.
Related to this post:
Aluminium vs uPVC conservatories