Here at Droylsden Glass, we've been helping homeowners all over Greater Manchester enhance their properties since 1982. For a recent project of ours, we travelled to the historical town of Rochdale to pay Mr Cocker a visit.
Transforming an old conservatory that was only suitable for storage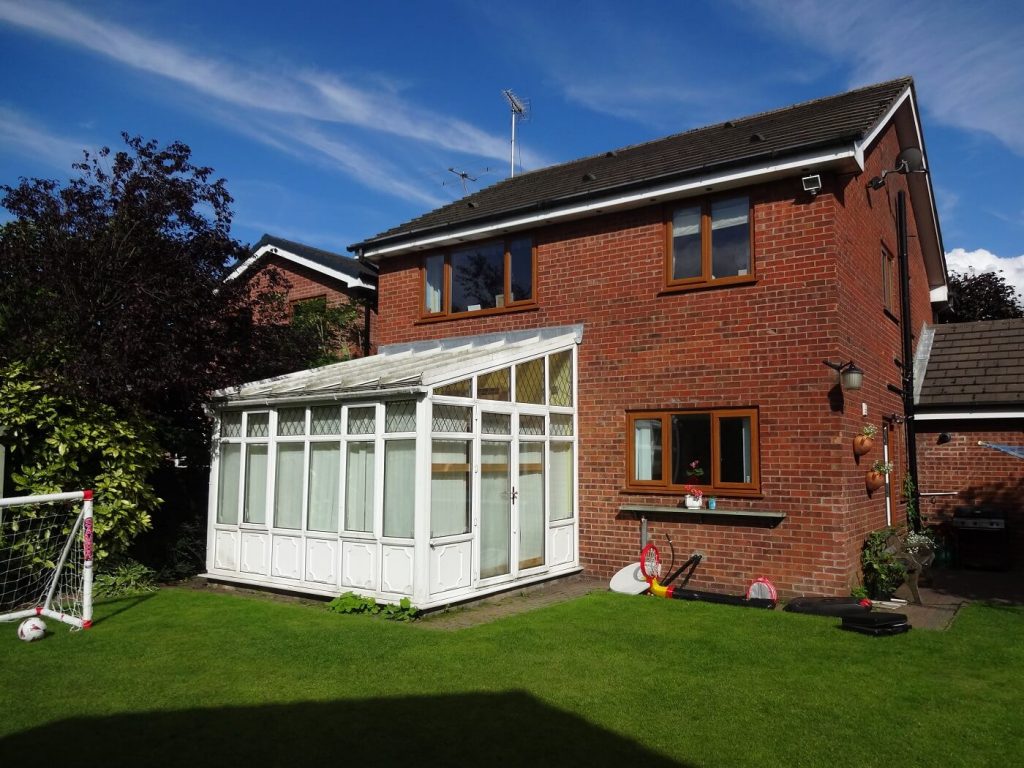 Mr Cocker's old lean-to conservatory had seen better days; before we arrived, it was either "too cold in winter or too hot in summer", meaning it was only suitable to be used for storage. However, Mr Cocker wanted to create a room that could be used all year, so he had more living space available.
Having previously worked on his grandmother's home back in 2012, Mr Cocker knew only too well about the quality of our products and workmanship. So, he got in touch with us to see if we could transform his old conservatory.
Fitting an ultra-efficient Guardian Warm Roof to create a comfortable living environment
The roofing on old conservatories is one of the biggest reasons why so many of them are unable to be used all year round. This is because they can't keep in enough heat when it's cold and they allow the conservatory to overheat when it is warm. However, Guardian Warm Roofs have an ultra-efficient design, allowing them to maintain optimum comfort levels throughout the year.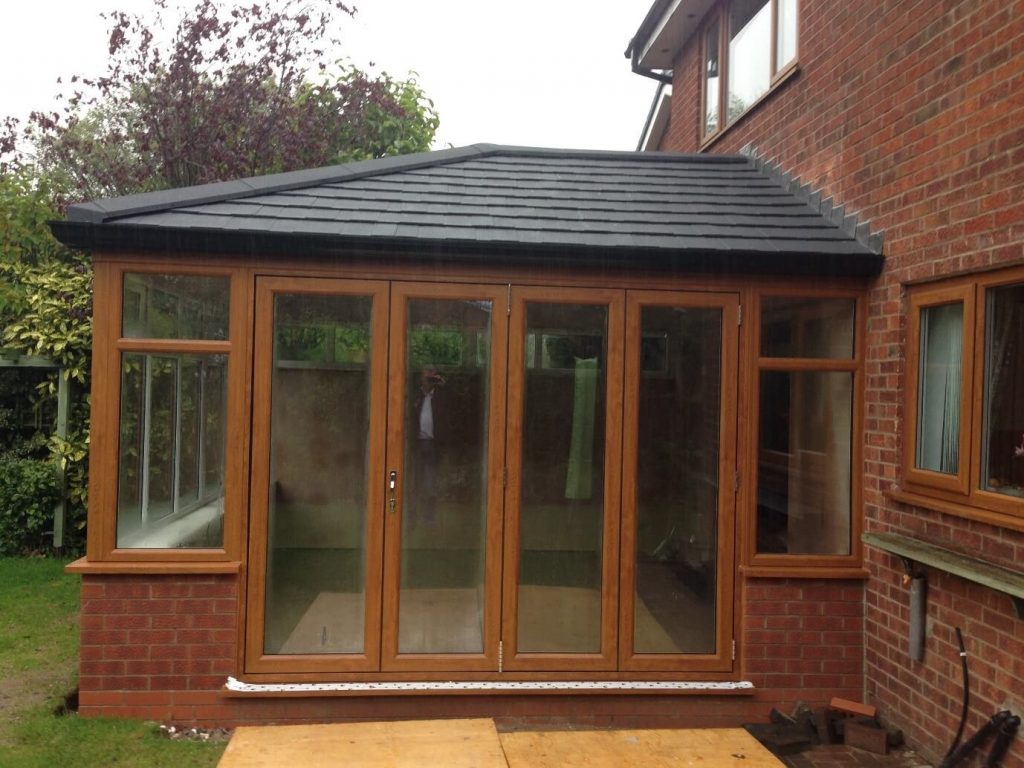 So, after swapping out the roof on Mr Cocker's conservatory for one of them, we were well on the way to creating that year-round usable living space that he was looking for. Their hardwearing tiles also keep out rain noise and other external sources of sound, meaning the conservatory was quiet as well as cosy. To ensure the new roof blended in with the rest of the property, we fitted it with some stylish Grey metrotiles too. Mr Cocker was especially pleased with the detail on his new conservatory roof's plastered ceiling.
Golden Oak on White uPVC windows with matching bifold doors
For conservatories that are especially old and outdated, replacing the roof isn't always enough to create a living environment that achieves optimum comfort levels. In some cases, the old structure will need replacing and new windows and doors will need fitting, which was the case here.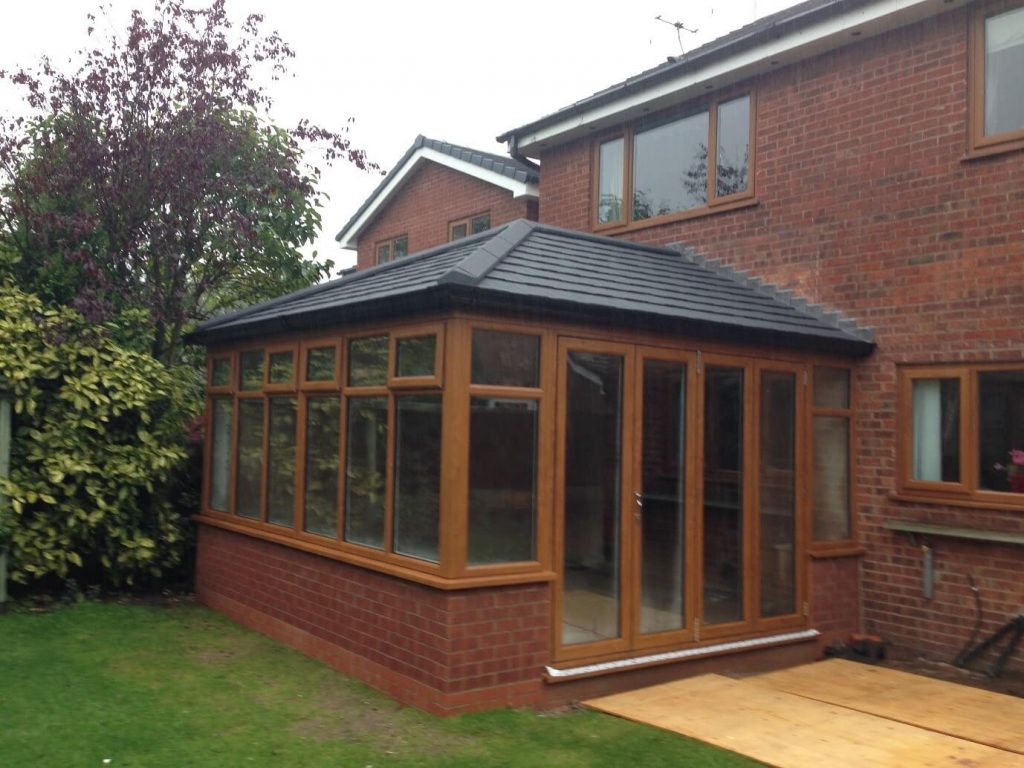 So, after dismantling the old structure, we fitted some naturally insulating uPVC windows and a matching set of bifold doors. They each had a Golden Oak on White finish, so they matched the interior and exterior of the property. Plus, they came fitted with 'A' rated double glazing too. So, the new conservatory was very energy efficient, leaving Mr Cocker and his family with a space they could use comfortably all year round.
Another Rochdale customer delighted with our products and the performance by our team
Mr Cocker and his family were very pleased by their new structure, and here's what he had to say:
"We now have a first-class usable room and it has definitely added value to the property".
 However, Mr Cocker found our installation team to be: "Professional, courteous and trustworthy, and he wouldn't hesitate to recommend us to anyone considering having work done".
Have you been impressed by our work here? Then, why not get in touch with Droylsden Glass today to see how we can help you improve your home? Give us a call on 0161 292 1122 or contact us online to get started.