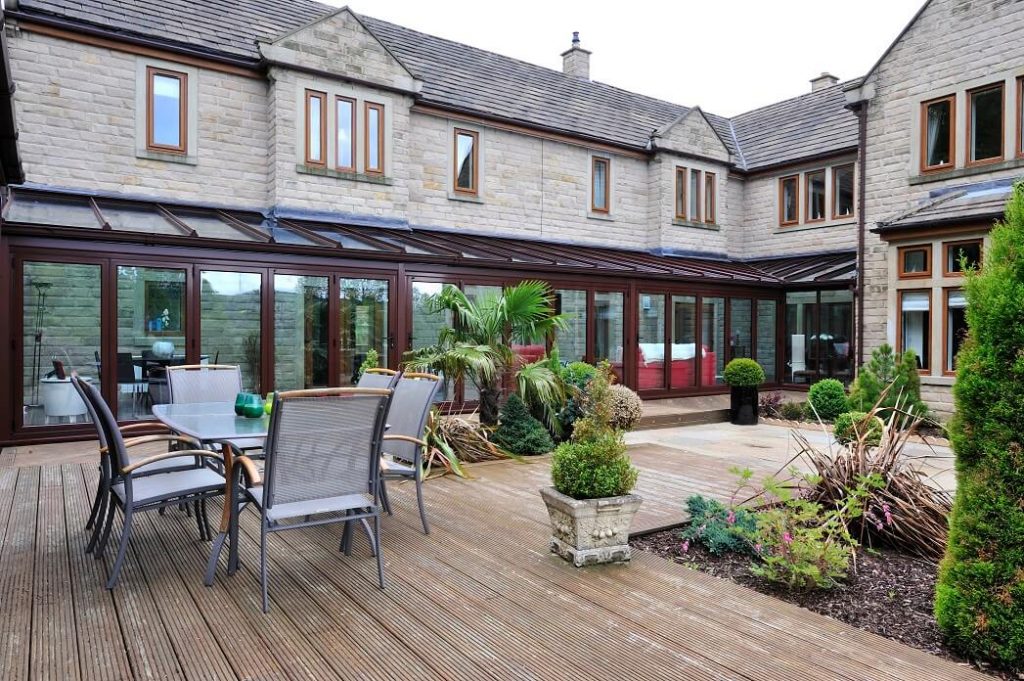 Here at Droylsden Glass, we regularly help homeowners across Greater Manchester to enhance their homes. However, for this job, we made the short journey from our Audenshaw home to the lovely town of Todmorden, West Yorkshire to pay Mr & Mrs Dixon a visit.
In search of light and more living space
Mr & Mrs Dixon wanted to add some extra living space to their home, but it was important that this new space was filled with lots of natural light. So, after speaking to their son about their plans, he immediately recommended that they get in touch with us to carry out the work. Taking their son's advice on board, they get in touch and arranged for us to fit a large aluminium conservatory to their Todmorden home.
Glass aluminium conservatory roof for a bright living space that stays nice and cool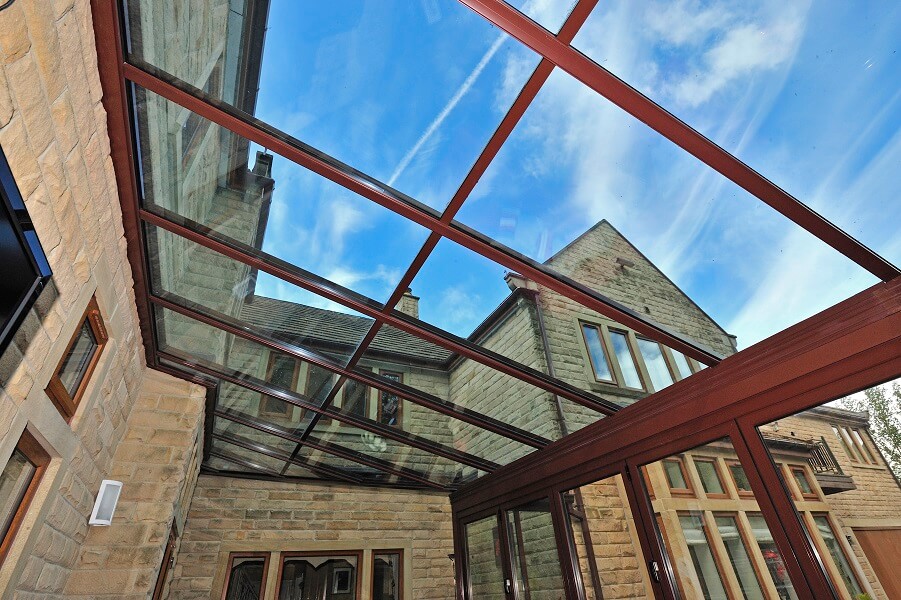 To sit atop their new conservatory, we fitted a glass aluminium conservatory roof, ensuring that however the Dixons want to use their new living space, it will always feel bright and spacious in there.
However, as the glass we used was high-quality Pilkington Activ Blue glass, it offered many additional benefits. For starters, this type of glass has solar control qualities, meaning it helps to keep the internal temperature of the conservatory cool. So, when Mr & Mrs Dixon want to enjoy their conservatory on warm, sunny days, they can do so without fear of getting too hot as well.
It also has a self-cleaning coating, which breaks down organic material that lands on it. So, now the Dixons could enjoy all this natural light and warmth without any additional upkeep.
Seamlessly blended in with their existing home thanks to brown aluminium windows and doors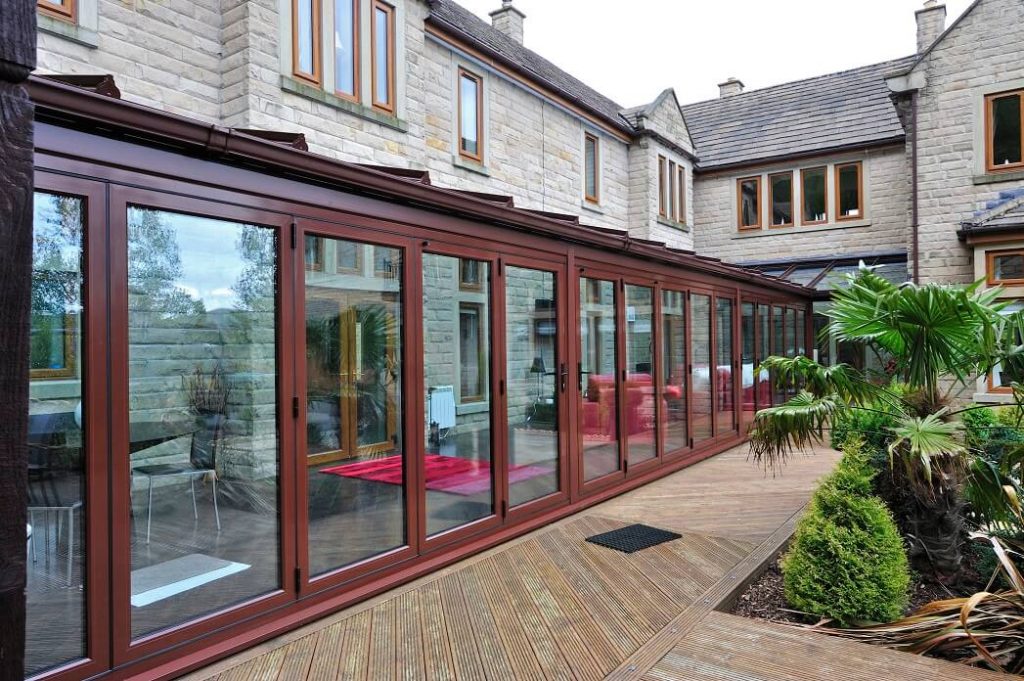 The beauty of using aluminium windows and doors is they utilise aluminium's inherent strength. This allows for aluminium frames to be built to more slender proportions. Less framework means a larger glass area, so more light can flow inside – perfect for creating the brightly lit living space that the Dixons were looking for. As aluminium also has an anti-corrosive layer and is ultra-durable too, their new conservatory will easily be able to withstand the wind and rain for many years to come.
To ensure their new conservatory blended in with the existing windows and doors on Mr & Mrs Dixon's home, a smart brown finish was applied to the aluminium framing. What's more, to sit between the frames we fitted the latest double glazed units, ensuring the conservatory could keep nice and warm in the winter too.
Giving the Dixon's home the 'wow' factor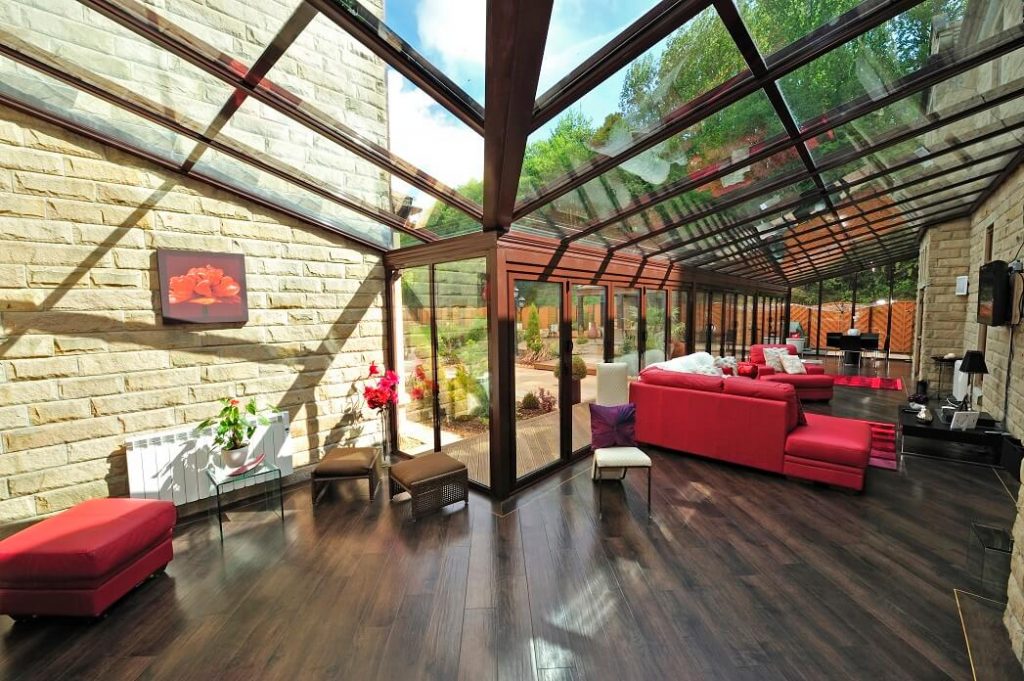 Mr & Mrs Dixon are delighted with their impressive and spacious conservatory, and the quality of our service. Mrs Dixon even went on to say this:
'Almost everyone who sees our lovely new conservatory for the first time just says wow! It's like a ballroom.'
Have you been impressed by our work here? Then, why not get in touch with Droylsden Glass today to see how we can help you improve your home? Give us a call on 0161 292 1122 or contact us online to get started.