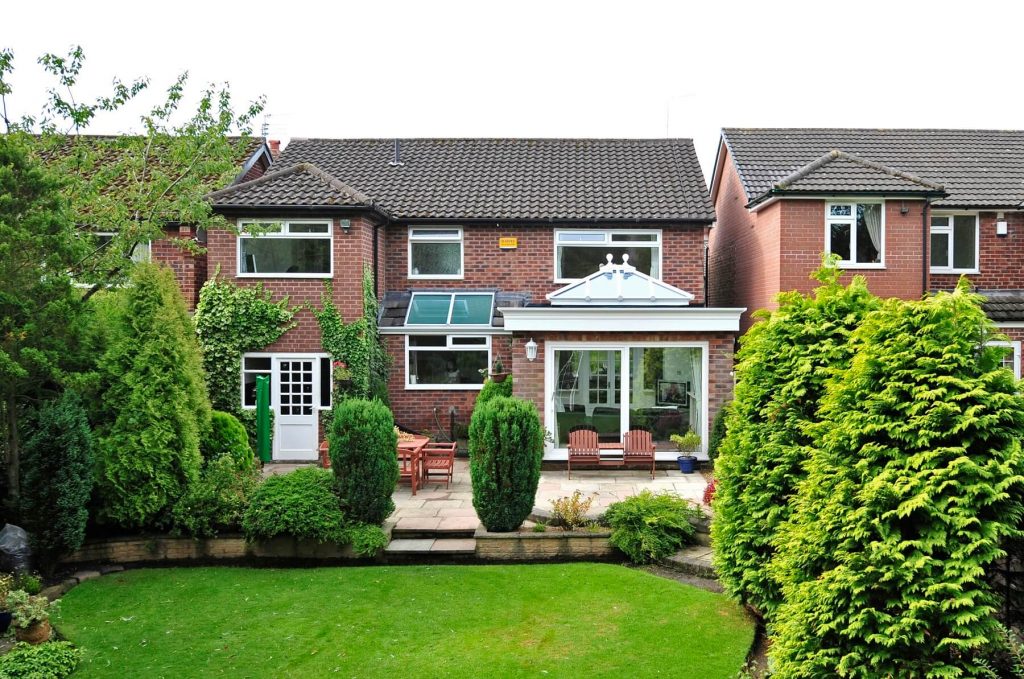 With Stockport being just a short drive down the M60 from our base in Audenshaw, we are a familiar face to homeowners in charming Cheadle Hulme who want more from their current living space. For a recent installation of ours, we travelled there to fit a stunning orangery roof.
An orangery roof advert ends up paying dividends
The flat roof on our Cheadle Hulme client's lounge extension had been there for 30 years, and the time had come for it to be replaced. The original replacement plan was a pitched roof with glazed panels, but after they spotted an advert of one of our orangery roofs, they felt a need to investigate this option further. So, they came on down to our showroom to see the roof themselves, complete with a full-size room, and were so impressed that they knew this was the option for them straight away.
Brightening up their home with a beautiful, glazed atrium roof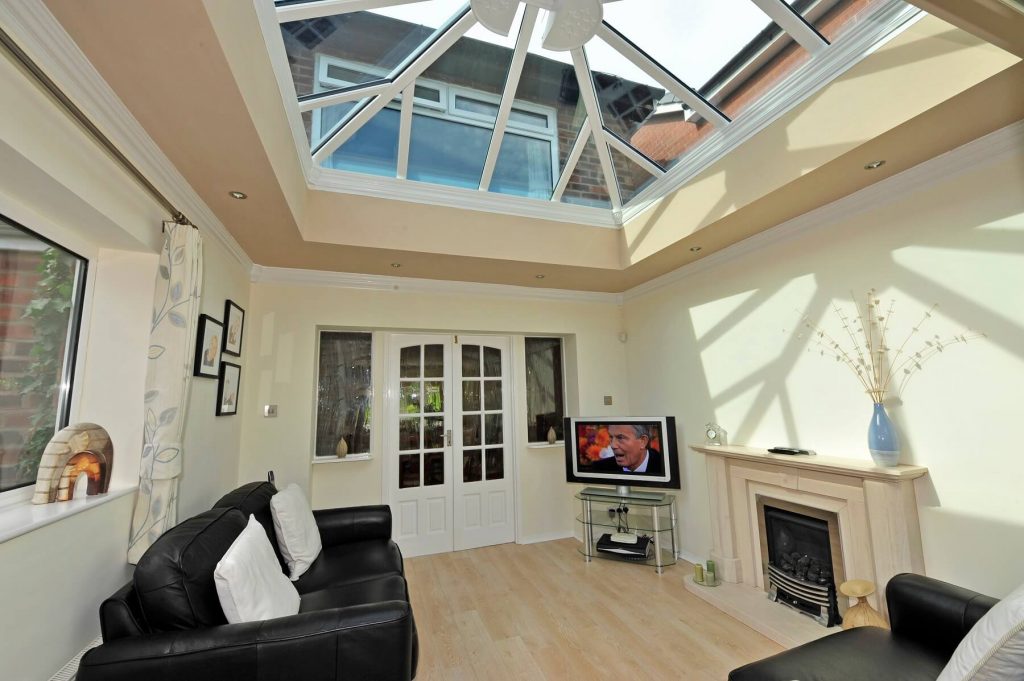 Our client's main motivation was to brighten up their home, which is one of the reasons drawing them to our orangery roofs. So, after we completely replaced their old flat roof with our custom-made orangery roof system, which feature a minimalist design and slender glazing bars, we reinvigorated their interiors with the feeling of light and space. In fact, the new roof allowed so much light into their home that, not only did it brighten up the lounge extension, but it also significantly brightened up the internal room leading to the extension as well!
And although the focus of this project was to brighten up their lounge extension, we also brightened up their kitchen by installing a set of glazing panels into its pitched roof!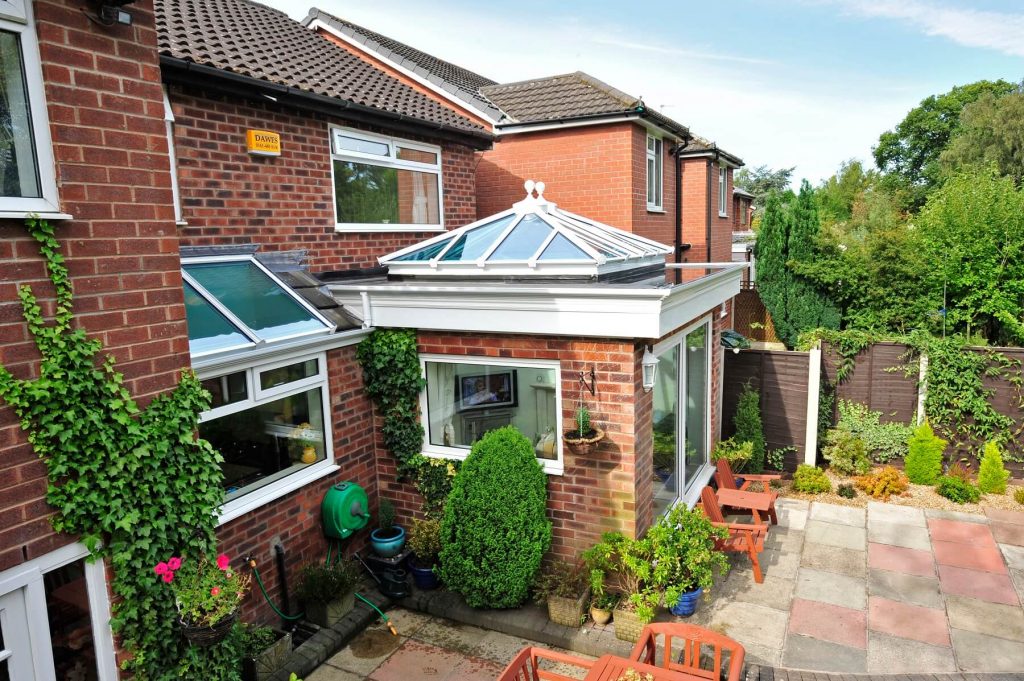 Keeping the space cool with Pilkington solar control glass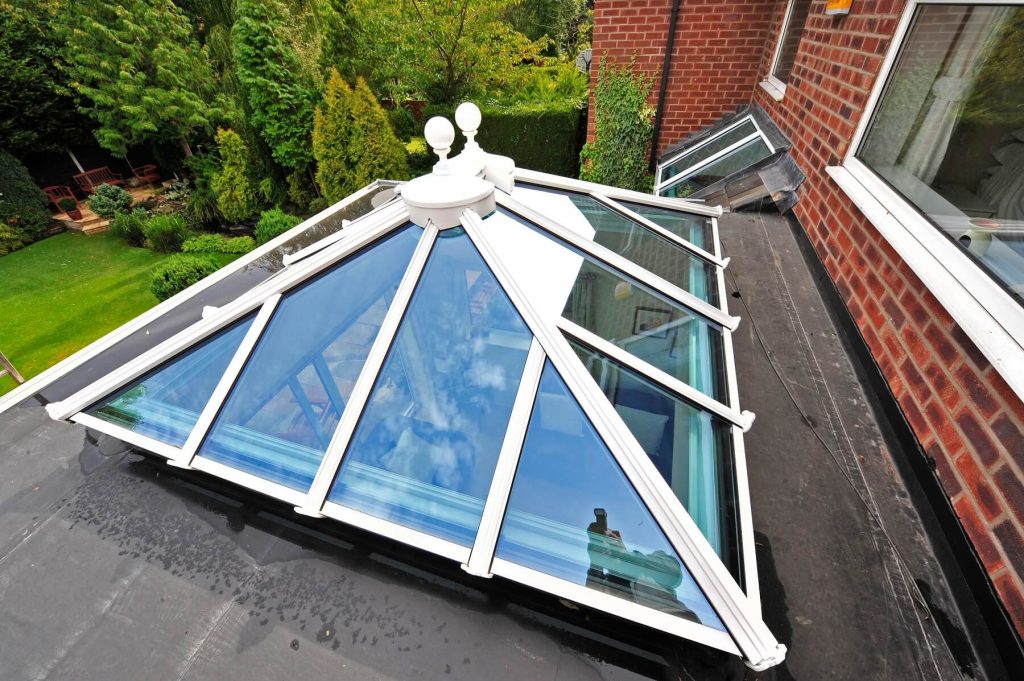 With so much more sunlight now making its way into the lounge extension, it was important the space was protected against overheating. So, to ensure it would stay cool in the warmer months, we fitted their new orangery roof with Pilkington 'Activ' solar control glass. This glazing has a special layer that reflects large quantities of the sun's heat, keeping interior spaces cool during the warm part of the year. As this glass is also self-cleaning, keeping their lounge nice and cool came with no additional upkeep on their part!
'Could not be happier with the results'
Our Cheadle Hulme client was absolutely delighted with the way we transformed their home, and "couldn't be happier with the results". They also said that they are "really pleased they went to Droylsden Glass."
Are you a homeowner in or around Stockport and were you impressed by our work here? Why not get in touch with Droylsden Glass to see how we can enhance your home too! You can call us on 0161 292 1122 or contact us online.