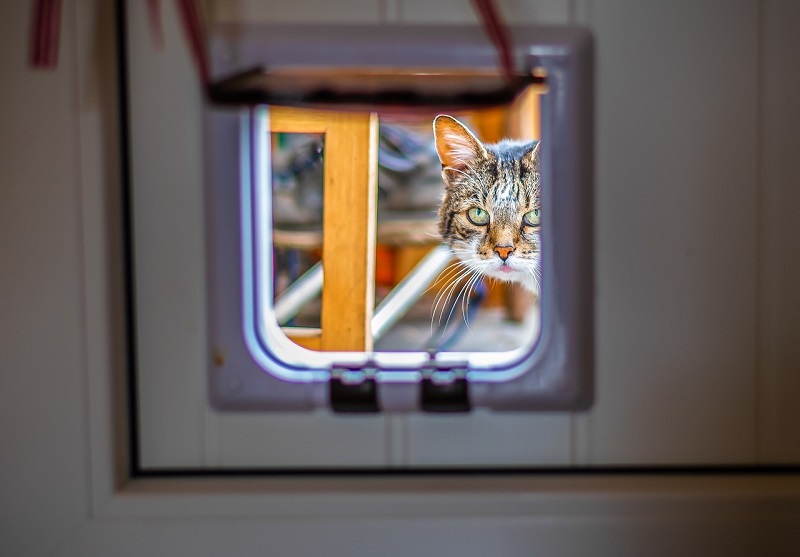 With just over a quarter of UK households owning a dog and a further 18% owning a cat, not knowing whether or not your beloved pet will be able to come and go in your house as they please is a common concern. As installers of an excellent range of composite doors, we're asked whether they can be fitted with a cat or dog flap on a regular basis.
It is possible to fit either of them on a composite door, however, it's best to do so when the door is made.
Fitting a dog or cat flap when composite doors are made
When you order a composite door from Droylsden Glass, it comes made-to-measure. Therefore, size, colour, glazing, furniture, etc. are all chosen by you before it's sent off to the manufacturer to be built. So, by specifying if you'd like a cat flap or dog flap, this request will be sent off to the manufacturer who will then incorporate it onto the door.
Manufacturers have extensive experience building composite doors to a variety of unique designs, so the addition of a dog/cat flap will be properly sealed. Therefore, ensuring the performance of the door is not affected in a negative way.
Retrofitting a cat or dog flap to a composite door
If you already have a composite door and you're thinking of retrofitting a dog/cat flap on it, there are several good reasons not to, such as:
Any cat or dog flaps added to the door after it's been installed will invalidate its warranty. Therefore, if you're on the market for a composite door, make sure to request if you'd like a cat or dog flap fitted during the enquiry stage.
Even if you're an avid DIYer, retrofitting a cat or dog flap is not the most straightforward of jobs. It's also essential for the opening to be properly sealed, otherwise you will be losing heat from your home.
If you're set on the idea of retrofitting, you might be better off fitting a dog or cat flap elsewhere on your property. It's been known for them to be fitted on conservatories, patio doors and even external walls. However, be sure to check you're not voiding any warranties if this is the route you intend to go down.
There are also some joiners who advertise this service, but make sure to do some thorough research on their credentials before hiring them for any work. Another option is to have a new composite door fitted instead.
Standard and premium composite doors installed in homes across Greater Manchester
We install standard composite doors and premium variants from Solidor and Rockdoor. Each are high-performance solutions for the front or back of a home and they can be fitted with a cat flap or dog flap if required. For a free, no-obligation quote on a composite door, call 0161 292 1122 or you can get one online.