You can tell a lot from looking into someone's eyes and the same goes for windows. Acting as the eyes to your home's soul, run-down window frames have a real impact on a property's thermal efficiency as well as its kerb appeal. This is why more and more homeowners in Manchester and the surrounding area are swapping their old timber window frames for practical uPVC windows and slender, long lasting aluminium windows.
Able to accommodate many unique window styles, both Räum flush sash windows and Infinity flush sash windows are ticking all the boxes for savvy homeowners and businesses looking for the perfect mix of form and function. So, before you make a final decision on your new window replacements, consider these 6 benefits of modern flush sash windows first.
What is a flush sash window?
First things first, what exactly is a flush sash window?… Literally finishing 'flush' (flat) with the external face of the window, flush sash windows provide smooth, continuous external contours when closed. Created to imitate the timeless visual appeal of classic wooden window frames, uPVC and aluminium flush sash windows combine the perfect blend of time-honoured window design and innovative energy efficient construction materials.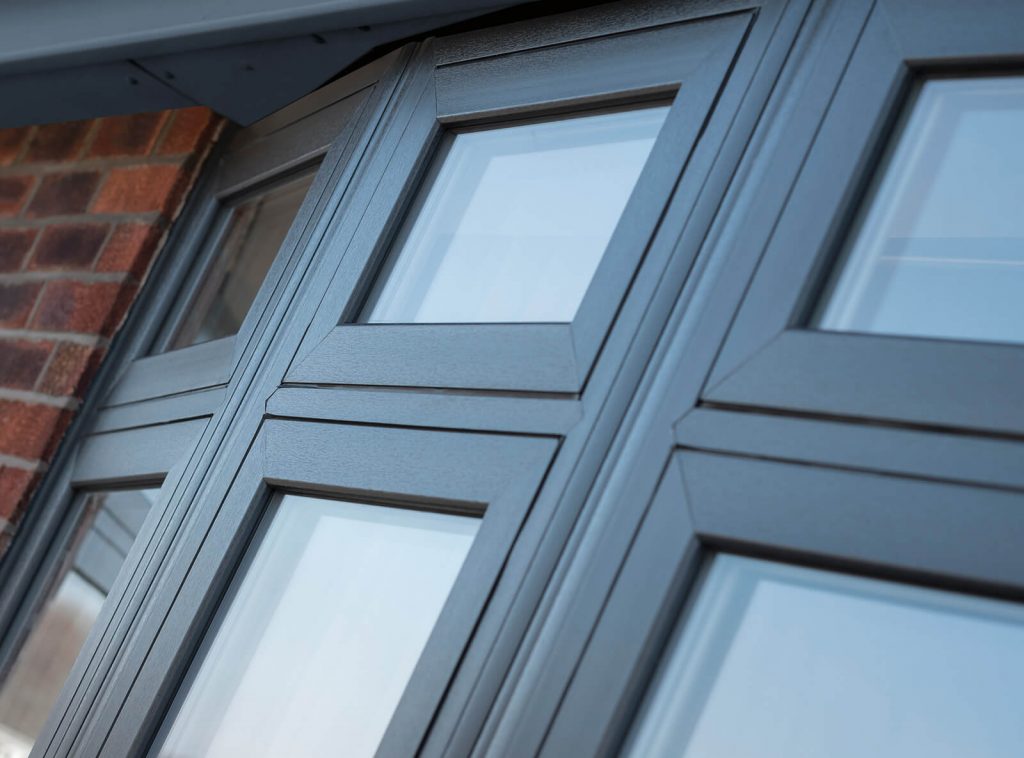 Are flush windows any good? 6 benefits to consider
1. Equal sightlines maximise kerb appeal
Featuring frames that appear the same width, flush sash windows' unique equal sightlines enhance both traditional and minimalist styled buildings alike. Infinity uPVC windows are known for offering the smoothest corner weld on the market, creating a perfectly smooth, timber effect corner joint.
Sleek, subtle yet stylish, whether you choose uPVC or aluminium frames, they can both be customised in a variety of realistic wood grain effects, as well as charming heritage and contemporary shades according to your specific taste.
For example, our uPVC flush sash windows include 26 heritage colours and a wide variety of customisation options including gorgeous Georgian bar detailing and window handles. Whereas our aluminium flush sashes can be personalised in a number of standard colours or any RAL colour can be applied to the frames for bespoke window replacement projects.
How important is colour in home improvement projects?
2. Excellent selection of security hardware
It's only a matter of time before flush timber windows lose their strength and become vulnerable to attack. Modern flush sash windows are much more advanced than their original timber counterparts, featuring the latest multipoint locks and internal glazing beads as standard. And for an extra level of security, hinge-side security brackets can be added for additional reinforcement. So, with a modern flush sash window you can be certain any forced entry attempts will be easily repelled.
Furthermore, Infinity flush sashes are PAS 24 approved and have a useful night vent locking position for enhanced security, whereas Räum aluminium slimline windows are PAS 24 approved and can achieve prestigious Secured by Design status for the best in home protection (via Dekko Window Systems Limited).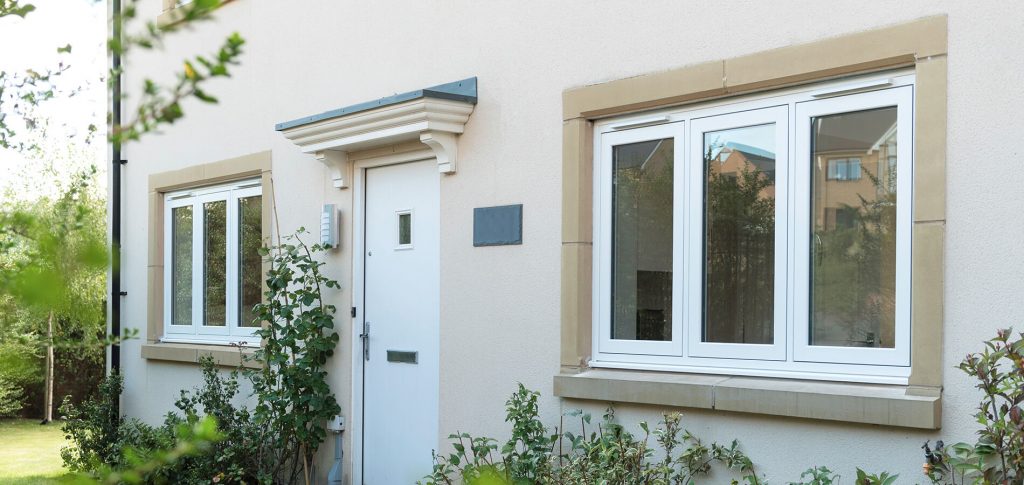 3. Modern flush sash windows are energy-efficient
Although timber is one of the most thermally sound building materials around, old wooden flush sash windows are often prone to drafts due to warping which inevitably increases household energy usage, electricity bills and unwanted external noise. Modern uPVC profiles feature innovative multiple chambers within their frames that trap as much heat in as possible, and the best aluminium windows combine fibreglass reinforced polyamide breaks and multi-chambered profiles for enhanced thermal performance.
Coupled with modern double or triple glazing, our uPVC Infinity windows offer A+ energy ratings and our aluminium flush sash windows can achieve impressive A++ energy ratings (triple glazed).
4. Conservation area friendly
If your home is in one of Manchester's 34 Conservation Areas, modern flush sash windows (like ours!) have made gaining planning permission to replace windows much easier. Often approved in strict conservation areas, Infinity flush sashes have been designed to meet the planning consent guidelines to ensure your home's unique architectural features are preserved.
5. Environmentally friendly
With 40% of UK emissions coming from households, we all have an important part to play in reducing carbon emissions. Modern aluminium windows are helping us to do this, as they're 100% recyclable and can last up to 45 years with little to no maintenance. And thanks to advances in recycling and product innovation, uPVC is also widely recognised as a sustainable option; able to be recycled and repurposed up to 10 times with no loss of quality or performance.
8 ways to make your Manchester home more eco-friendly
6. Low maintenance
One of the main issues with timber flush sash windows is the amount of maintenance they need to remain at their best, requiring regular attention to ensure they're not exposed to the elements. uPVC and aluminium flush sash windows simply need a quick wipe over every now and then to retain their beauty, with the bonus of aluminium being rust and warp resistant.
What are flush casement windows?
Also known as stormproof casement windows, typical casement windows feature a 'lip' that slightly protrudes from the window frame. So, flush casement windows finish flush with the external face of the window, creating a sleeker aesthetic.
Our Residence 9 flush casement windows are hand-crafted, ensuring strict adherence to classic stylings that often allows them to be approved for use in conservation areas by local planning authorities.
What replacement windows are best for my 1930s home?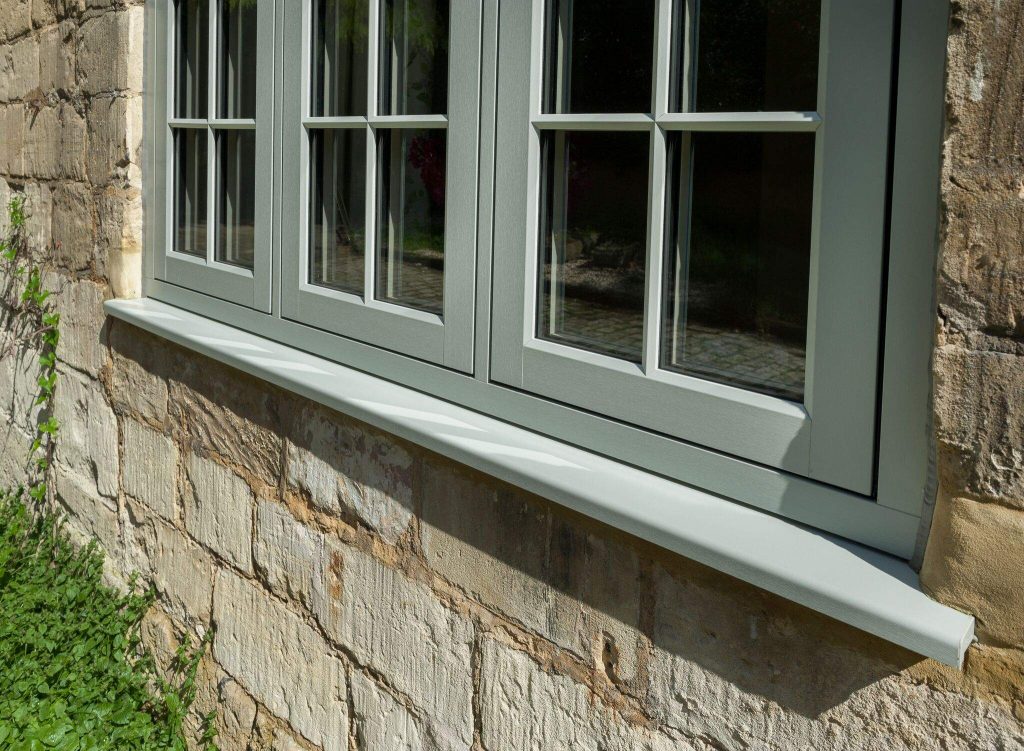 Attractive aluminium flush sash windows in Manchester & the Northwest
With up to 30% off this summer and a range of fantastic home improvement finance options available, there's never been a better time to upgrade your windows, doors and glazed extensions with Droylsden Glass. Visit our extensive showroom, browse through our inspiring installation gallery, get a free quote, or contact us to discuss your renovation options with an award-winning double glazing company that always has your best interests at heart.